Dealing with North Korea
Responding to the fifth nuclear test
President Park Geun-hye has issued a very strong statement in response to North Korea's fifth nuclear test. On Sept 13, she asked the Korean military to "continue and increase cooperation with the United States" and to "put an end to the North Korean regime should it fire a single nuclear weapon toward the South."1 On Sept 21, Defense Minister Han Min-koo also revealed that South Korea has a decapitation plan if the North showed any sign of an imminent attack.2
The South Korean Air Force is expected to join its US counterpart early next month in a simulated military exercise aimed at targeting North Korea's nuclear facilities. The exercise, known as RED FLAG-Alaska, is scheduled to take place at the Eielson Air Force Base in Alaska from Oct 3-21.3
Meanwhile, the US Air Force deployed two of its B-1B Lancer bombers to the Korean Peninsula on Sept 13. The two aircrafts flew over Osan Air Base before returning to Andersen Base in Guam. Eight days later, the aircrafts returned to perform a low-level flight near the Demilitarized Zone (DMZ) before one landed on the Osan Air Base.
North Korea responded with a statement promising to "turn Seoul into a pile of ashes." It also announced on Sept 20 that it had successfully tested a new long-range rocket engine that could theoretically power its intercontinental ballistic missile (ICBM).4

Calls for South Korea's 'nuclearization'
There is a growing call for South Korea to develop its own nuclear capability in the aftermath of the fifth nuclear test. Assemblyman Won Yoo-chul – the former floor leader of the ruling New Frontier Party (NFP) – for instance, has stated that "the most effective way to deter [North Korea's] nuclear threat is to possess nuclear weapons."5 During an emergency session of the National Assembly on Sept 12, he led a group of conservative lawmakers to propose the establishment of a bipartisan parliamentary panel to discuss effective countermeasures against the North Korean nuclear threat. Included in the discussion agenda was the topic of South Korea's indigenous nuclear capability.
The current leader of the NFP, Assemblyman Lee Jung-hyun, has also stated that it is time for South Korea to put the nuclear agenda on the discussion table.6 This call was echoed by Assemblyman Kim Moo-sung, who urged lawmakers and the government to consider "every possible measure."7 The majority of Korean public appears to be in agreement. According to a recent survey conducted by Gallup Korea, 75% of South Koreans agree that North Korea's fifth nuclear test pose a threat to peace on the Korean Peninsula. 58% also agree that South Korea should possess its own nuclear weapons.
Is North Korea's nuclear test a threat to peace on the Korean Peninsula?8, 9

Should South Korea possess its own nuclear weapons?10, 11

Mr. Kim Jong-in, the former leader of the opposition Together Democratic Party (TDP), stated that South Korea should "actively review" pre-emptive and deterrence capabilities in response to North Korea's nuclear attack.12 However, Assemblymen Yun Gwan-seok (TDP), Ki Dong-min (TDP), and Park Jie-won (PP), among many other opposition lawmakers, criticized the ruling party's approach, calling it "inappropriate, "dangerous," and "irresponsible."13
The official position of the Blue House is strict adherence to the non-proliferation treaty (NPT), which is in keeping with the position of the United States. The US has also rejected calls for the reintroduction of tactical nuclear weapons on the Korean Peninsula.14
Flooding and Disaster Relief
Typhoon Lionrock caused severe damage to the Hamkyeongbuk and Ryanggang provinces on Aug 29. According to the UN disaster relief agency, flooding has resulted in 138 deaths and 400 or more cases of disappearance.15 Given the cold weather conditions in the northeastern regions, the casualty figure is expected to rise.16 Many are also concerned that Typhoon Malakas will soon hit North Korea, delivering a second blow.17 Signifying the severity of the situation, the North Korean government released photos of the damage to the international community, calling the floods "the worst calamity since the independence" and pleading for help.18
The disaster comes at a particularly unfavorable time as South Korea grapples with the aftermath of the North's fifth nuclear test. On Sept 9, the Ministry of Reunification stated, "Given the current climate, even if North Korea requests humanitarian assistance, it is unlikely that we will accommodate."19 Public opinion is also antagonistic. According to a recent survey, 55% of respondents were opposed to providing humanitarian assistance to North Korea, citing concerns about feeding the North's nuclear program, while 40% were in favor.20 Lee Tae-kyu of the People's Party, however, urged the government to provide humanitarian assistance: "While we must strongly respond to North Korea's nuclear and missile provocations, we must allow humanitarian assistance for the North Korean people to alleviate the tensions in the Korean peninsula."21

Hanjin Shipping
Logistics crisis caused by Hanjin Shipping's court receivership on Aug 31 has yet to be resolved. Many of Hanjin's ships are still stranded at sea and they have yet to finish offloading their cargoes. With financial assistance from the Hanjin group (KRW 100 billion) along with contributions by former president Choi Eun-young (KRW 10 billion) and KDB (KRW 50 billion), the company now has enough cash to proceed with the offloading process.22 As soon as the cargos are off-loaded, ships chartered to Hanjin will be returned to its owners. Though concerns are raised that the return would drastically reduce the size of the firm devastating its valuable sales networks, the carrier is in need of cash to go through the court receivership process.23 The bankruptcy court has also pushed back the deadline (from the end of October to the end of November) in deciding whether to move through with the receivership process or to liquidate the company.24 As legal claims are expected to follow after the unloading, the likelihood of recovery is becoming a more distant reality. The government opposes bailing out the firm.25 However, it has announced that it will support the company in offloading 90% of the stalled cargos by the end of October.26

Media Coverage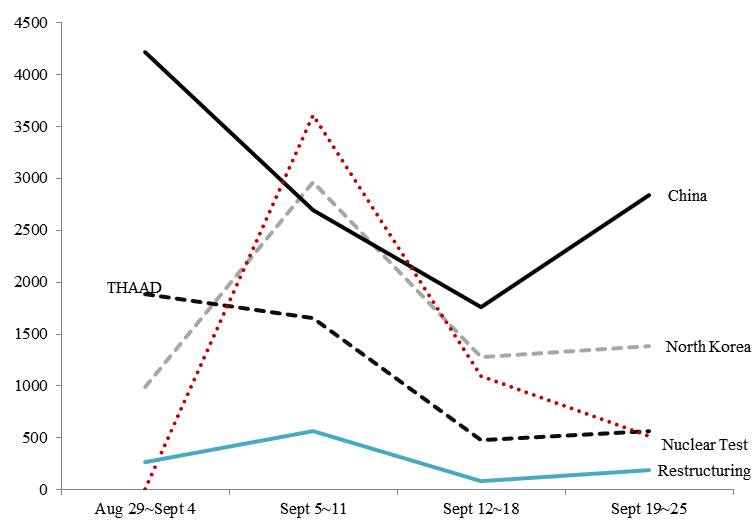 Party Approval Rating27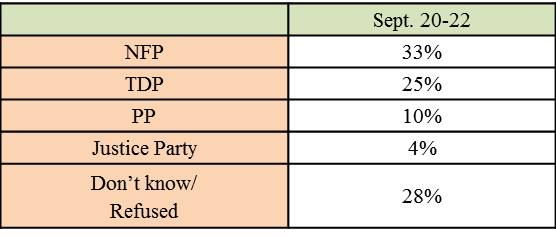 Contributing Staff(in alphabetical order): Han Minjeong, Jo Eun A, John J. Lee
Editor:J. James Kim