Presidential Election

With the Presidential election scheduled for May 9, Moon Jae-in (TDP) is the clear frontrunner with Ahn Hee-jung (TDP) in distant second. South Gyeongsang Province Governor Hong Jun-pyo is emerging as a strong candidate for the conservative side.
Presidential Candidate Approval Ratings1, 2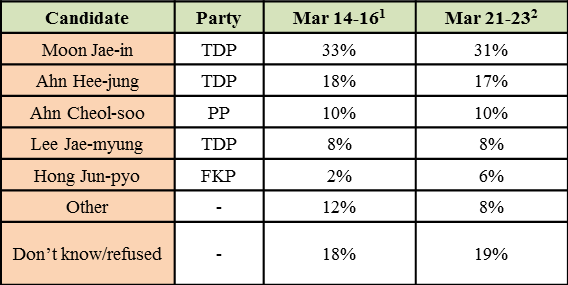 Each party is scheduled to name their candidate by mid-April.
Dealing with North Korea

Missile test
On Mar 22, North Korea conducted its third missile test of the year. The projectile was launched from Wonsan heading towards the East Sea.7 The missile exploded soon after launch.8 Many suspect that the test was a response to the ROK-US joint military exercise and the deployment of THAAD on the Korean Peninsula.9 Military officials are closely monitoring the situation given that the North could conduct more tests leading up to April 15, Kim Il-sung's birthday.10
U.S. Secretary of State Rex Tillerson's visit
On Mar 17, U.S. Secretary of State Rex Tillerson visited South Korea during his tour of Asia. He visited the Demilitarized Zone (DMZ)11 before meeting with the interim President Hwang Kyo-ahn and Foreign Minister Yun Byung-se. During the meetings, he reaffirmed the importance of the ROK-U.S. alliance12 and warned North Korea that "the U.S. policy of strategic patience… is over."13 He also made clear that "all options are on the table," including military one in dealing with the North.14
THAAD
According to a recent public opinion survey by the Asan Institute for Policy Studies, the deployment of THAAD on the Korean Peninsula is changing how Koreans see their country's relationship with the United States and China.15 Most notably, China's favorability among Koreans took a dive during February and March. On a scale of 0 to 10 (0=least favorable, 10=most favorable), China's favorability rating dropped from 4.31 in January to 3.21 in early March. China's rating is now below to that of Japan (3.33).
Country Favorability Rating (0-10)16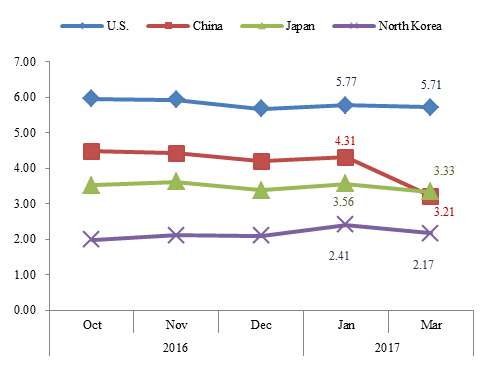 According to the authors of the latest brief, deteriorating perception of China among South Korean public was the result of Chinese retaliation against South Korean businesses for the deployment of THAAD on the Korean Peninsula. More South Koreans now favor (and fewer oppose) the THAAD deployment compared to November 2016.
Public Opinion on THAAD (%)17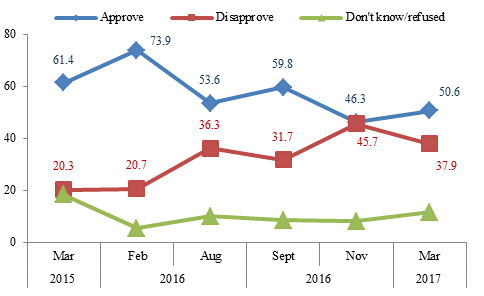 Corporate Governance Restructuring

South Korea's conglomerates are rushing to simplify their governance structure as the National Assembly moves to revise the existing law on corporate governance. Under the new bill, all shareholders will be required to purchase their shares at fair market value. In short, if the conglomerates want to maintain control of the operating firm, it is best to form a holding company to sidestep this requirement.18 Hyundai Motors Groups is expected to have either Hyundai Motors or Hyundai Mobis be its holding company.19 SK has already named an intermediary last October. Hyundai Heavy industries announced that Hyundai Robotics will be its holding firm.20
Samsung Electronics was also encouraged to make similar moves after the merger of Samsung C&T and Cheil Industries but it has refrained from doing so. While Samsung is likely to make this change sooner or later, change in the immediate future is likely to be difficult given the ongoing investigation of Samsung Group's Vice Chairman Lee JY and his involvement in a bribery scandal.21

Daewoo Shipbuilding & Marine Engineering (DSME) Restructuring

In addition to the KRW 4.2 trillion that the government has committed approximately two years ago, KRW 2.9 trillion has been set aside to keep DSME afloat.22 The latest announcement was justified by government estimates which showed that letting DSME fail would cost KRW 59 trillion for the South Korean economy.23 The long-term strategy is to reduce the firm's size to KRW 6.2 trillion by the end of 2021, which is manageable for an eventual merger with another firm and thereby cushion the blow on the national economy.24 Many critics, however, have blamed the government for breaking its promise to not bailout failing companies. The latest assistance requires creditors to agree on adjusting DSME's debt.25 If the company fails to win major creditor support, the firm will have to rely on a mix of court receivership and workout.26

Park Geun-hye before Prosecution Service

Former President Park Geun-hye appeared at the Prosecutor's Office on March 21 for questioning and interrogation. Media reports indicate that her meeting with the prosecutors lasted nearly 22 hours.27 At this moment, the prosecutors have one of several options: 1) file for an arrest warrant, 2) indict without arrest, 3) or hold more sessions for questioning.28 The prosecutors are likely to make their move quickly to minimize the impact of Park's investigation on the coming election.29

Contributing Staff(in alphabetical order): Han Minjeong, John J. Lee
Editor: J. James Kim