19th South Korean Presidential Election

With only a day to go till the South Korean presidential election, we take look at the latest polling results collected by multiple survey outlets up to May 2. Data is posted by the National Election Commission.1 Polling is prohibited by law during May 3~9.
Figure: Support for South Korean Presidential Candidates, April 8 ~ May 2, 2017(in %)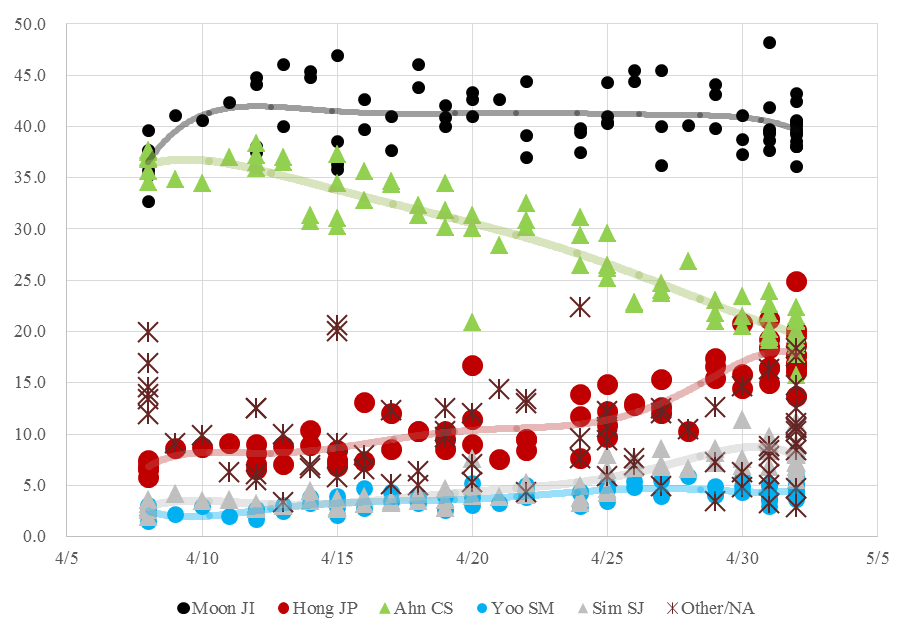 The data shows consistency in support for Moon Jae-in of the Together Democratic Party (TDP). The poll of polls average support for Moon is about 40%. Hong Jun-pyo of the Liberty Korea Party (LKP) has surpassed Ahn Chel-soo during late April and early May with average support at approximately 20%. Ahn Chel-soo of the People's Party (PP) is close behind at about 18% but his trend is negative. Sim Sang-jung of the Justice Party (JP) is also making a late push with about 8% support but Yoo Seong-min of the Righteous Party (RP) is holding steady at about 5%. As it stands, Moon is in the clear lead by about 20%p from the nearest contender (Hong).
This year's voter turnout is expected to be high. The number of returns on overseas ballot is 221,981. The turnout was quite high (75.3%) for the Korean nationals in 116 countries turning out to vote during April 25~30.2 Early voting, which took place during May 4~5 was also quite high with 11,072,310 voters turning out (26.06%) to cast their votes.3 Comparison of the data on "the willingness to vote" and actual voting suggests that voter turnout is likely to match the level of the last presidential election (75.8%).
Figure: Turnout and Willingness to Vote (in %)4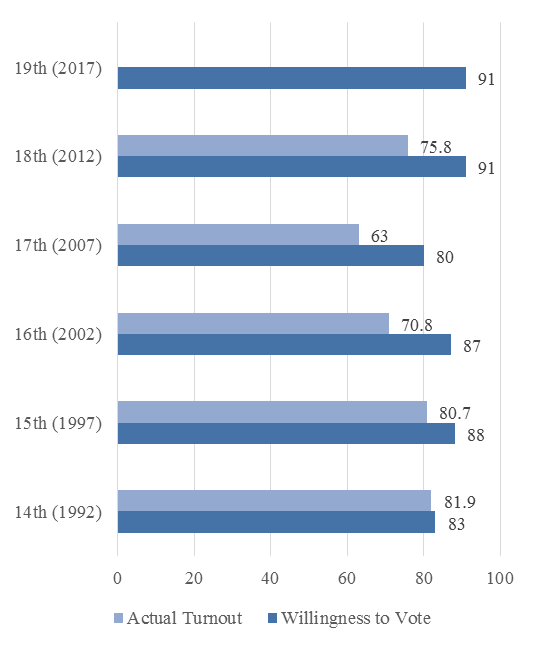 Dealing with North Korea

On April 29, North Korea test fired a missile into the East Sea although it only flew for a few minutes before exploding in mid-air. The missile is believed to be a medium-range ballistic missile, KN-17. The test is seen by many as a protest against the joint-military drill involving USS Carl Vinson and the South Korean navy in waters off the Korean Peninsula.5This was the North's 3rd missile test of the month, 9th of the year, and 49th since Kim Jong-un became the North's leader.6
Contributing Staff(in alphabetical order): Kang Chungku, John J. Lee
Editor: J. James Kim